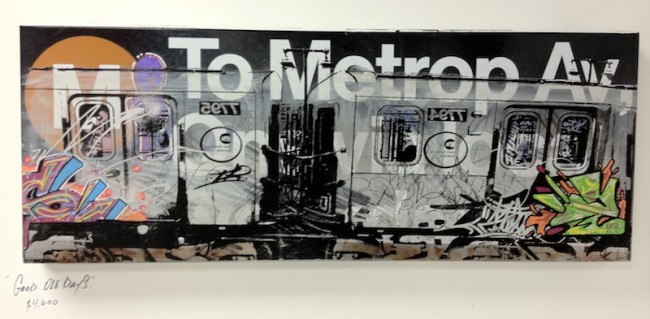 Graffiti writers 2ESAE and SKI of UR New York showed new work at their own show called "Breaking and Entering" in Wynwood, Miami this weekend.
In one series that was being displayed, the artists appropriated traffic signs and other city signage as their canvases. One of these works, called "Good Ole Days," utilized a sign from the M train. Another series in the show was a collection of model vehicles painted by the duo. One of these was a yellow service subway car with old school fill-in bubble letter tags.
The subway seems to be a common topic in the work of many artists showing in Miami. Graffiti writers especially have a connection with the subway because the modern graffiti movement was born on the trains. It's pretty amazing that the system continues to inspire so much art.
Check out UR New York's site for more!