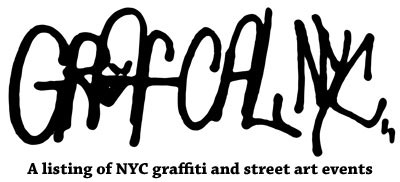 Writing this blog has turned me into an avid follower of graffiti and street art culture here in NYC. I enjoy checking out new work and meeting artists, so I try and make it to as many exhibitions and other events as I can. It's not as easy as it sounds, though. As hard as I try to find out about them, I find myself missing things only because I never heard about them. There is no unified source of info about street art and graffiti events on the web. This is why I decided to create Graff Cal.
Graff Cal is a super simple website with a calendar of graffiti and street art-related event listings. It's mission is to compile all of these into one place and we've teamed up with Fresh Paint NYC to make it happen.
The site is still a work in progress, so look for big updates soon. See you at an opening!