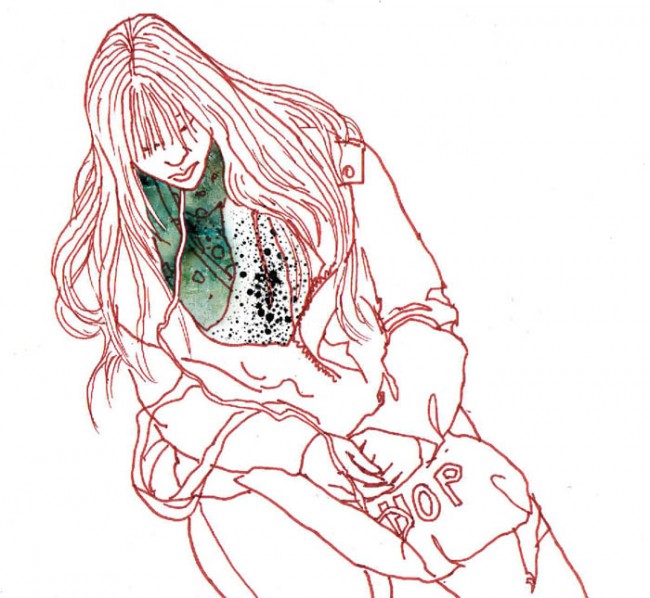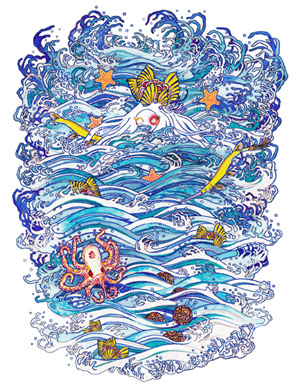 Gina Martynova is a New York-based illustrator. Her work has a whimsical, fantastical style which has been achieved through the use of watercolor paints. One of Gina's projects is a blog called In Transit, where she posts her studies of New Yorkers in flux. We asked her a few questions about this work which can be found below.
Why do you draw people on the subway?
I draw people on the subway because I am intrigued by the lines and shapes the human body and clothing forms while in public transit. It started out as an assignment for a drawing class and later grew into an ongoing hobby. There is just something very captivating about this situational moment in time that creates interesting lines and layout — it's almost as if that person is my muse for the 5 minutes that they can spare. I also like to convey their emotions — it's interesting to capture feelings because I have noticed that people can be very transparent in evoking their feelings in public places.
What is your process? How long does it usually take you to draw someone?
My process varies from person to person depending on how much time I have. It usually takes around 5-8 minutes to draw someone from head to toe. I tend to draw people that create an interesting composition and negative space. I start with the head and upper torso. If I have time and they haven't moved or gotten up, I draw the rest of their body. I use a Faber-Castell artist pen, which is India ink in a sepia tone.
Have you ever run into a situation where the person realized you were drawing them? If so, what happened?
This happens a lot if the person is awake! When it does I get different responses. One man seemed very happy to be drawn and after I was done came to take a look. Another young man reading a religious book seemed very annoyed at my actions and got up to move as far away from me as possible! Women I draw are either complimented or become very insecure and sometimes stand up so as to prevent me from continuing. It's very interesting. I have yet to encounter someone that is really offended or gets angry. Overall I think people in New York are curious.
You can find more of Gina's work on her portfolio site at ginamartynova.com.