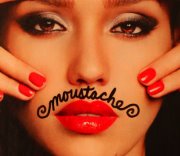 It's been just over one year since we posted our exclusive interview with the elusive Moustache Man. A lot has happened since then—he's been arrested, tried and has had a court-mandated gag order for several months. The whole ordeal is finally over and he is ready to talk about everything..in a standup show!
His first performance is on Wednesday, June 13th at 6:30pm at the UCB Theatre.
Moustache Man: Confessions of a NYC Graffiti Artist
Written by and starring Patrick Waldo
Directed by Nate Dern
Make your reservations on the UCB site and check out Graff Cal for more details about the show!