The first time I saw Olek, she was sitting behind the desk of the Christopher Henry Gallery at the exhibition of her crochet art, called "Knitting is for Pus****." She was wearing her crochet clothing and glasses, crocheting a piece of a bicycle cover. Are you noticing a trend here? Crochet is Olek's world, or, more accurately, Olek's world is crochet. This exhibition gave a bit of insight into the world that I unexpectedly became a part of.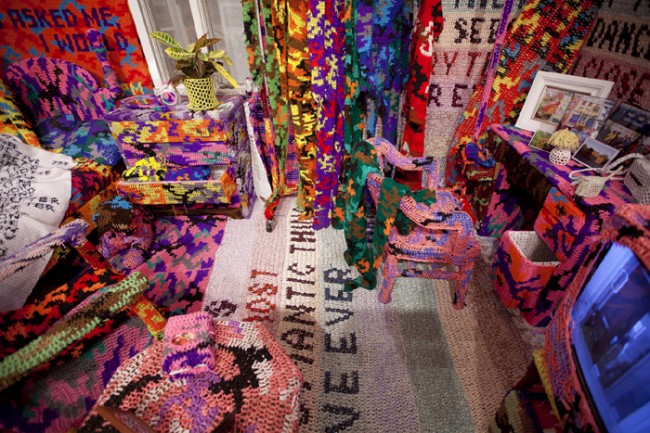 Yes, all her work is done by hand. And no, she doesn't have a crew of people working for her.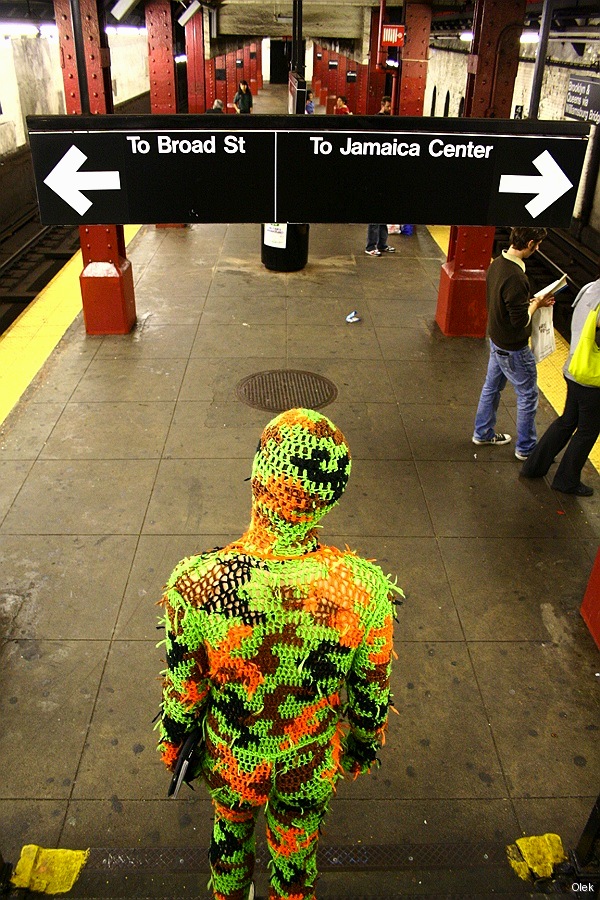 The first floor of the Christopher Henry Gallery space features an entire room of crochet-covered objects. Inside you will find clothing, appliances and even some funny and raunchy crocheted text message banners lining the space. The second floor is a showcase of her collaborative pieces, which incorporate other media such as photos, video and more abstract sculptural work.
The second floor also includes a table full of publications about her past work. While rummaging through these, I discovered that she had utilized the subway as a venue for performances in the past. I asked if she had anything similar planned for the future. Her response: "No, but you can put on one of my suits and I can take photos of you in the subway?you have a good body for it. Are you available tomorrow?" It took me a minute to process what she was saying, but when it finally sank in, I accepted her offer.
I showed up at the gallery the next afternoon with my iPad and a copy of the graffiti book "Subway Art" to use as props, if Olek allowed it. I had no clue what the rules were, but they turned out to be along the lines of what I was imagining: no talking, no exaggerated posing for photos and do not get too close to her. Otherwise, behave normally.
After several minutes of deliberation, I chose a green, orange, black and brown camouflage suit (right out of the room in the gallery where it was on display). It came in two pieces: one for the body and one for the head. I was a bit confused about how the pieces would attach because I didn't see any hooks, zippers or Velcro, but it quickly became clear that I was going to be crocheted into the suit. It covered my entire body—including my feet—which I put my shoes over. This felt like the first act of our performance, but only I was around to experience it.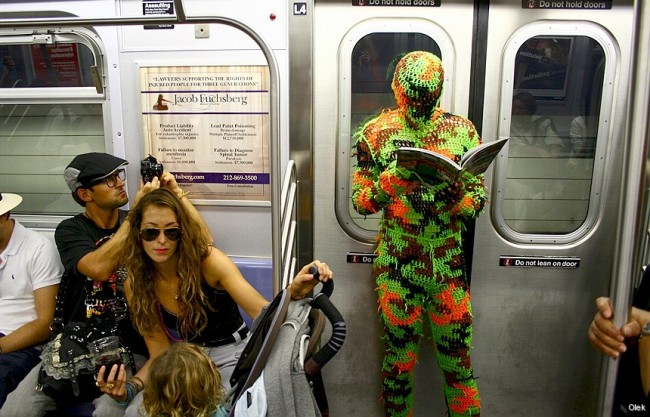 No, I am not completely naked under the suit, I was wearing underwear.
Many people were around to see the second act, though. From the moment I walked out on the street in the suit, I received numerous stares, smiles, points and several photos were taken. It is extraordinary how the suit generates so much attention, yet at the same time makes you disappear. It erases your individuality—your appearance, your race—so anyone can identify with you. The camouflage visually accentuates this effect.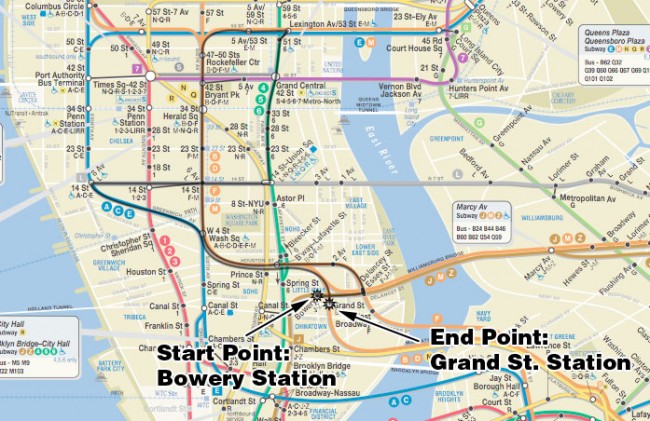 The plan was to take the J train to the F, all the way to 53rd and Lex, then come back downtown on the 6, but we decided to extend the route.
As soon as we stepped underground into the Bowery station, the vibe changed. I got more glares and fewer smiles. The situation was different in the enclosed space underground and a bit of paranoia ensued. One father reassured his child: "It's going to be ok, it's ok, sweetie." The child was not the one who looked uncomfortable.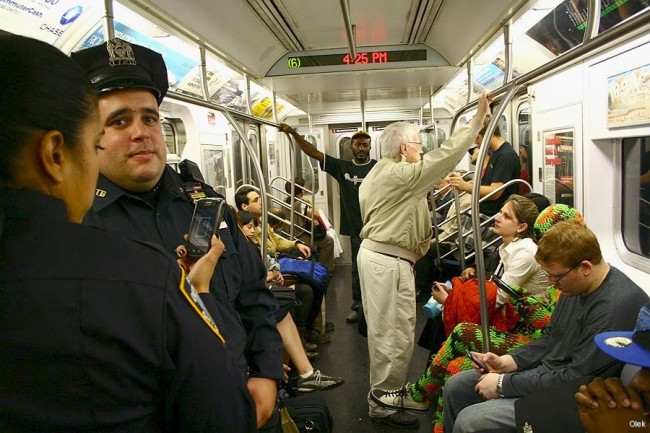 In general, most people reacted positively to the work, but I started getting a little worried when two cops boarded the 6 train right after us and stood there keeping a watchful eye on me. I followed Olek's "behave normally" rule and just sat and kept reading. When they realized I was not causing any trouble, one of them took out her cell phone and took some photos of me. I was happy with how they handled the situation—not that we were doing anything illegal.
Physically, the suit was fairly uncomfortable. Somehow the crochet slips on to the body with relative ease, but maintains a tight fit while being worn. It was also very warm, even though a good amount of my skin was exposed through the space between stitches.
Mentally, though, the suit was strangely comfortable; it was liberating in a way. When people looked at me, they could not see me. It was not possible for them to make the assumptions that one might normally make upon seeing me for the first time. The camouflage acted as my shield against their judgement.
At one point I was sitting in a subway car reading from my iPad, when I realized what an appropriate little Easter egg it would have been if someone looked over my shoulder to see which book it was. I was perusing Mary Shelley's Frankenstein and Olek was crocheting like a machine across from me. Like Frankenstein's monster, I did not feel love from my creator. When I got too close to her, she reminded me to keep my distance. She later explained to me that once she creates these beings, they are on their own.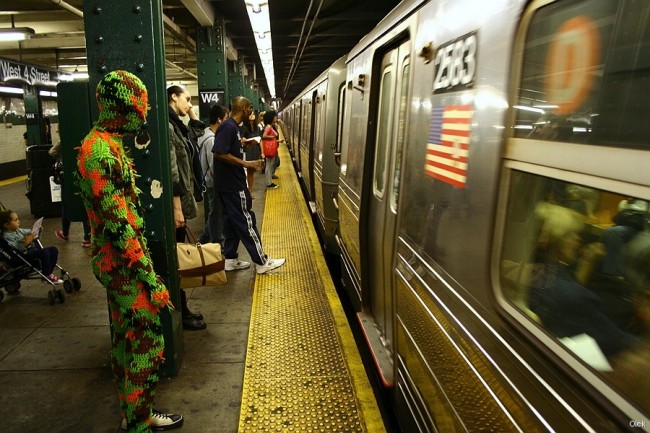 Though she is often asked, Olek says her work is not intended to be feminist (although it seems to have an inherent, if not stereotypical, feminist association).
After the fact, I asked Olek why she picked the subway as a venue for her work. She told me she likes the idea of going new places and being in motion, hence the bikes, cars and other vehicles she has transformed into art. My experience in the suit made me realize the subway was a good match with her work also because it was public, yet enclosed; taking the choice of involvement away from the audience. The suit also brought me into the world of Olek, something I could not have begun to understand if I had not had this experience.
Olek's show "Knitting is for Pus****" at the Christopher Henry Gallery has been extended through November 24th. You may also find her crocheted bicycle in the upcoming movie "Two Days in New York" directed by Julie Delpy.
[Olek NYC]
Photos courtesy of Olek except the first, courtesy Chistopher Henry Gallery.