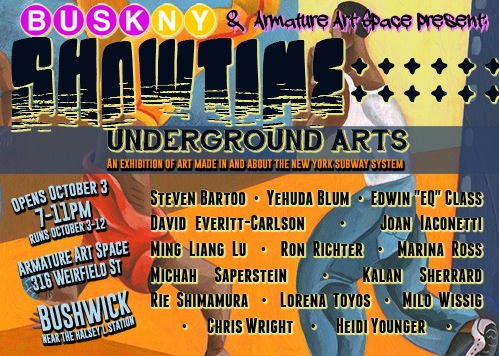 I'm very excited about this Subway-themed art show opening on Friday. Several subway art veterans are in the show including Edwin Class and Joan Iaconetti.
Subway arts organization BuskNY presents a night of subway artist advocacy amid the NYPD's much publicized "crackdown" on subway performers.

As the 'Broken Windows' policies of NYPD Commissioner William Bratton have led to ejections, tickets, and arrests of performers in contradiction of the MTA's own laws on artistic performance, BuskNY has led efforts to record these interactions and bring them to the public, and worked to draw attention to the consequences of an attack on one of the last public spaces where music and dance can be shared with millions of members of the public for free.

In this exhibition, SHOWTIME, BuskNY turns the spotlight to a less-remarked subject: the visual art created about and within the New York City subway system. SHOWTIME features some of the best-known freelance visual artists to have used the subway in their work, including Steven Bartoo, Yehuda Blum, Edwin "EQ" Class, David Everitt-Carlson, Joan Iaconetti, Ming Liang Lu, Ron Richter, Marina Ross, Michah Saperstein, Kalan Sherrard, Rie Shimamura, Lorena Toyos, Milo Wissig, Chris Wright, and Heidi Younger.

The opening will also feature live performances by award-winning subway performers, including New York Times-featured sculptor Ming Liang Lu, dance crew Waffle Life, and violinist Filip Pogady. Together, these performers will showcase the diverse achievements of artists working in transit spaces, and give a voice to all of those who face ejection and ticketing. There will also be an interactive painting workshop by High Line artist David Everitt-Carlson.
Opening:
Friday, October 3rd, 7-11pm
(with live music and dance performance, refreshments, and garden party)
Additional gallery hours:
Saturday, October 4 from 12-6pm
Wednesday, October 8 from 3-9pm
Saturday, October 11 from 12-6pm
Also available by appointment–contact Armature Art Space to schedule.
Location:
ARMATURE ART SPACE, INC
316 Weirfield Street, Brooklyn, NY 11237
armatureartspace.org