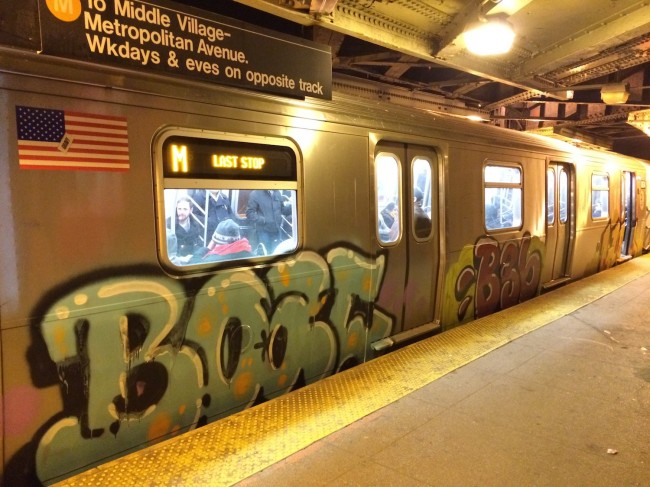 Early Saturday morning friend of Subway Art Blog, Halopigg, spotted a rare subway car covered in colorful graffiti. Here's his recount of the experience:
I was coming home from a night out in Manhattan and at around 2am I was standing on the Myrtle Broadway platform waiting for the M Train when this freshly painted train rolled up. I could smell it before I could see it. I immediately grabbed my phone and started to snap a few pictures. I hopped on the train but then realized it was the last stop on the shuttle so I had another minute or two to get out and take a few more pictures. I was super surprised and the people around me either thought I was crazy or I was the person that did it.
Seeing a graffiti covered subway car in person has become rarer than seeing a shooting star through the New York smog. The MTA has a policy to pull cars like this one out of service immediately. This strategy has been so effective in fighting it that most New York-based graffiti writers don't even bother—it's usually Europeans and other out-of-towners that come and do their thing for a souvenir photos.
The pieces appear to be the work of LUPY, BOAT,  B36 and others. B36 most likely stands for "Beta 36" a graffiti crew based in Italy. If you have any more info on this crew, please share in the comments!
Special thanks to Halopigg for sharing his awesome photos. Check him out on Instagram.